WE GAVE A TON OF MONEY TO TWO BJJ GYMS!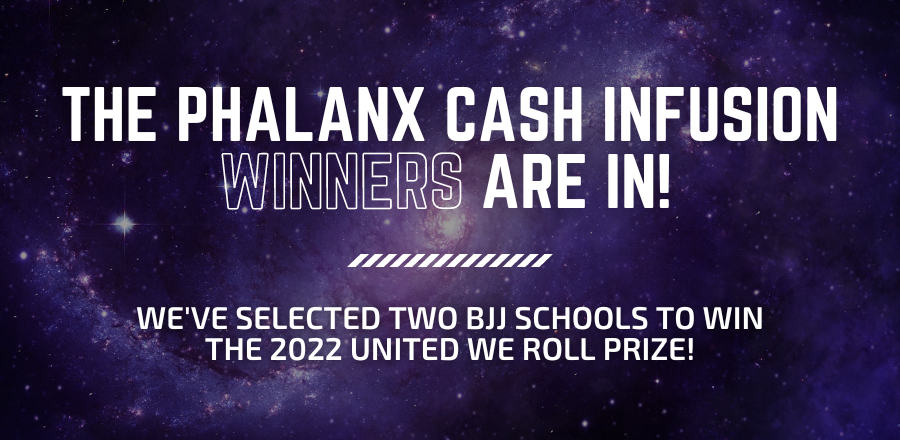 HUGE NEWS!

What's up fam, Chris here, Phalanx Founder. I've got huge news!
If you've been around for a minute, you know that Phalanx is all about giving back and strengthening the BJJ culture.
A few months ago we ran our first "United We Roll" campaign. A project I put together to give back to the Jiu Jitsu gyms, which I feel are the most precious but also the most fragile part of this entire thing.
Think about it.. if there are no dojo's there is no Gordon Ryan. There is no Phalanx. There is no ADCC... there is nothing without the Jiu Jitsu gym and I've taken it upon myself to do something about it.
So for years I've been giving business advice to my vast network of Jiu Jitsu gym owners out there... been doing it mostly on the DL. I've helped numerous gyms make significant improvements into their business, which is quite satisfying, but it still wasn't enough for me. I wanted to go bigger. That's when this "United We Roll" project came to me.
What if we do a limited edition and have people fill out a survey nominating their gym. We'll pool all the cash together, compare to the survey results, and select a gym to get the cash infusion. Then pump the money directly to the gym owner!


Well the results are in from our first year doing this, and the winners are:

#1 - 10th Planet South Bay, San Diego, CA
Congratulations! This gym had more purchases and votes than any other gym by a long shot. It's clear these students rallied hard together to make this happen.
#2 - RDA Fitness & MMA, San Antonio, TX
Congratulations! This gym had some incredible stories of what they've done for their students. I could tell in reading these that their community is strong AF and I'm all about rewarding that.


If you're a student at one of these gyms, two things: 1) thank you! It's all because of you. 2) could you let your gym owner/head instructor know we're looking for them and to email us at info@phalanxfc.com and we'll get that cash straight over!


2023
Don't sleep on next year! This is legit money... a lot of money, and wouldn't you love to see your gym make improvements? Wouldn't you love to see your gym get a little stronger? When this thing pops off next year, I invite you to join in and together we can make a huge impact!


Much love and respect,
Chris Martinez
Phalanx Founder
---